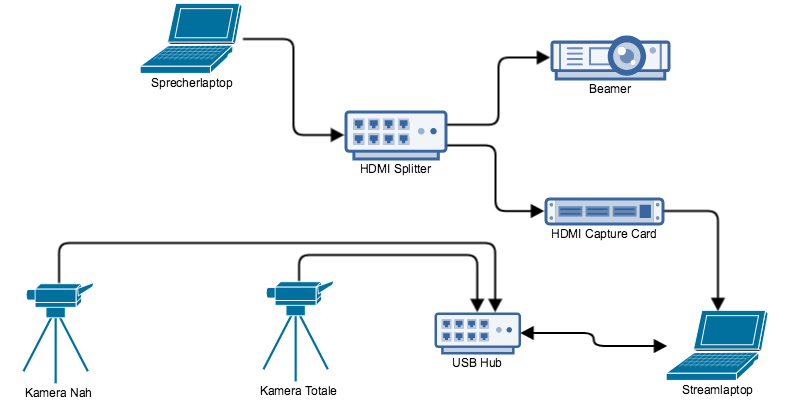 How-To Stream a User Group (english version)
3. Dezember 2017
Dear Community,
last time we've started to live-stream our User Group Meet-ups into the internet and also for later recap and replay for those who can't attend.
Responses to this are extremely positive and some of the attendees asked if we can do a little blog entry how I did this. We wished here it comes (All amazon-links are affiliate links):
Video
First I want to start with the equipment which is required for the Video part:
2 Logitech Webcams for recording the Speaker and the overall view
A tripod holder for the overview webcam
and a desk holder for the speaker camera
additional USB extension cable, USB hub (because you could never to many USB inputs) and of cause power distributors
Now we've the picture of the speaker or a overall view. Of cause I could use the overall view to capture the presentation (which is included in the view), but this isn't so good to see for the audience because to far away and to small. Therefor I've determined to capture the HDMI signal of the speaker computer as a additional source into the streaming software. This happens with the linked capture card that act's as a additional webcam or video-input in my computer.
For this purpose I use a USB capture card from my company, in addition a HDMI splitter to copy the video signal from the speaker computer to the projector and my streaming laptop and of cause multiple HDMI cables in different length.
This setup looks like this: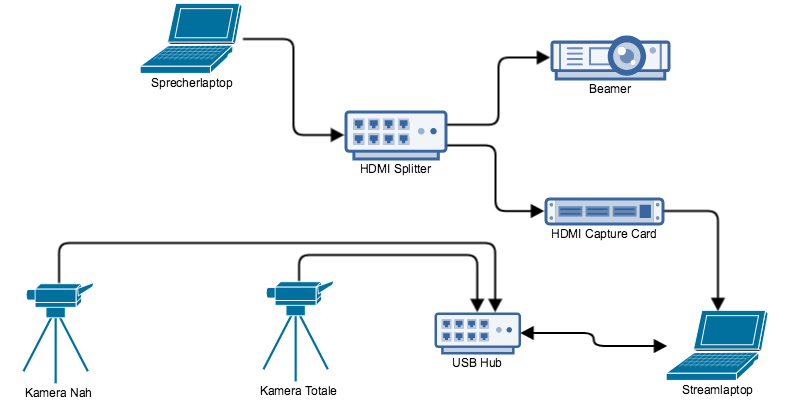 Audio
Lets talk about the important part of the meetups, audio. This is where the important information got transported, which are not covered by the PDF presentations.
On the 13. MeetUp we've used a condenser microphone to record the presentation.
But this has one big disadvantage: It's still a little bit away from the speaker.
For the preferred solution, we missed a mixer, but this will be installed in the next year so the final solutions looks like this:
Then we've got a total of 4 wireless microphones to record the voice of the speakers or we can use one of them to record questions from the audience.
Streaming
At least one important part is missing: How to stream this on YouTube?
I recommend the open source software "Open Broadcaster Software" (https://obsproject.com) that you can use to setup different scenes and settings and switch between them.
That's all folks 😉
If you have questions don't hesitate do ask me